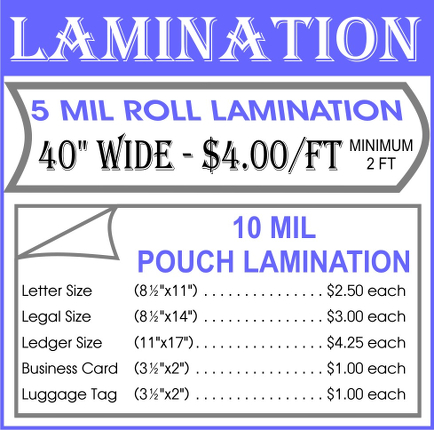 Keep it under wraps.
Have your documents and posters laminated with crystal clear roll lamination!
Prices are per linear foot as the lamination rolls out of the machine. Size is limited in one direction only according to the width of the lamination.
Great for posters, newspapers, blueprints, and patterns.
Have a lot of little things to laminate? Group them together on the roll laminator for an economical way to laminate, popular service for elementary teachers preparing their classrooms.
Our roll lamination is 5mil thick! Stop in and ask to see a sample to better understand the high quality of our roll lamination. Business card size is great for medical cards and other ID cards to keep them from getting mangled in your wallet. We can create a laminated ID tag for you with bright color paper so your luggage stands out and is easy to spot at the luggage pick-up area.
Document size for one-at-a-time lamination
Twice as heavy as our roll laminating, but just as clear
Very rigid, difficult to fold for better durability
Popular for obituaries, bookmarks, and small newspaper clippings